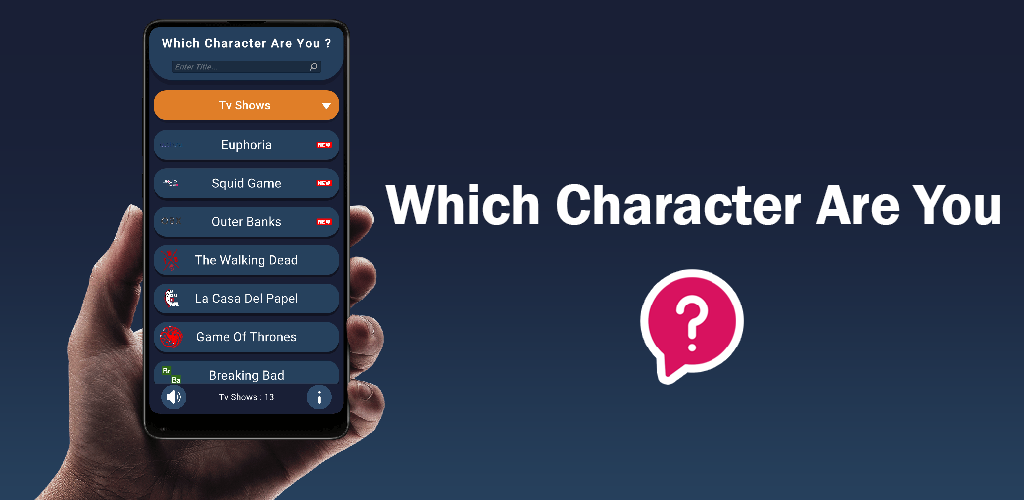 Which character are you? QUIZ
A downloadable QUIZ for Android
What's New:
• Minimize App size 📱
• Add Movies 🎬 and Animes ⛩️ section
• Search bar 🔎
• Fix bugs 🐛

╼╼╼╼╼╼╼╼╼╼╼╼╼╼╼╼╼╼╼╼╼╼
About:
There are many tv shows 📺, movies 🎥 and animes ⛩️, and each has its different characters who add some value to the story-line. Ever look at the television screen 🖥️ and wonder if there might be a character out there that has the same personality as you? Give it a shot and see who it is

Choose your favorite TV show and Answer 10 Questions And We'll Tell You The Exact TV Show 📺, Movie 🎥 or Anime ⛩️ Character That Make Up Your Personality.

📺 TV shows available:
House of the Dragon
Stranger Things
Better Call Saul
Mr. Robot
Euphoria
Squid Game
Outer banks ( obx )
The Walking Dead
La casa del papel
Game of thrones
Breaking bad
Prison break
Riverdale
Skins
Friends
Dark
and More

🎥 Movies available:
Harry Potter
The Lord of The Rings
Avatar

Spider-Man
Avengers
Back to the Future
and More
⛩️ Animes available:
One Piece
Naruto Shippuden
Bleach
Hunter x Hunter
Attack on Titan
Yu-Gi-Oh!
Naruto
and More
More Tv Shows, Movies and Animes are added constantly so be tuned 😄
Take this quiz with friends and compare results. Check it out!
Install instructions
Click the 📱 .apk file and then hit the install ⬇️ button.
Enjoy!
Also available on